Attend and Achieve
School education lays the vital foundations of a child's life. Research clearly demonstrates the link between regular attendance and educational progress and attainment. Parents/carers and the school staff should work in partnership in making education a success and in ensuring that all children have full and equal access to all that the school has to offer.
The Yorkshire Endeavour Academy Trust holds a Trust Wide Policy which outlines the overarching approaches used to support children's attendance. The Trust believes that;
"Pupils need to feel supported, to have their attendance valued and noted, and to be helped by the school to participate successfully. The majority of pupils want to attend school to learn and to achieve and may not be able to do so for reasons beyond their control, which the school needs to identify and investigate."
All children's attendance is closely monitored by the school and we place great importance on actively working with parents and carers to promote this essential aspect of school life. During term time and as long as they are fit and healthy enough to do so, we expect all children to be in school every day.
We strive to achieve at least 96% attendance across all of our classes at Airy Hill. If your child's level of absence concerns us or attendance falls below 90%, you will be contacted by the school to look at what can be done to improve attendance. We want to work with you to ensure we give your child the best opportunities to flourish and succeed.
Attendance Matters at Airy Hill
Good attendance in school is fundamental to a successful school experience. We believe that one of the most important factors in promoting attendance is the development of positive attitudes towards school and learning. We have a dedicated School Attendance Lead Officer and we actively encourage attendance and punctuality for all our pupils and families using a variety of individual and class awards and incentives to promote this on a weekly, monthly, termly and annual basis.
At Airy Hill we have introduced a monthly attendance loyalty programme, the weekly opportunity to participate in a social activity and reward for 100% attendance, termly certificates for individual pupils and the chance to win a family prize, termly class treats and a fantastic annual prize draw.
We report class attendance figures in our weekly newsletter and provide a termly Attendance Matters newsletter to share with parents and carers.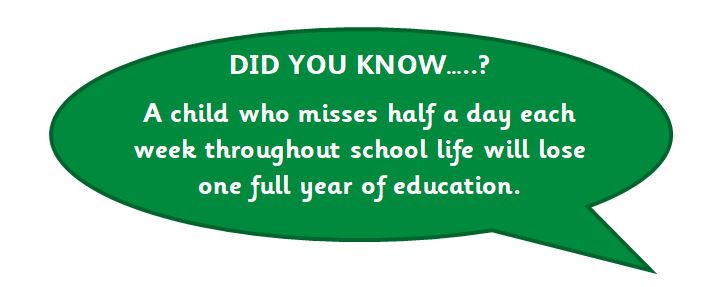 How can you help?
Parents and carers have a legal duty to ensure that their child attends school regularly and arrives on time all the time. Full attendance is essential to the all-round development of a child and they should be allowed to take full advantage of the educational opportunities available to them by law. At primary school age, we rely on parents and carers to support and encourage full attendance.
Frequent absence can add up to a considerable amount of lost learning and can seriously disadvantage your child.

How does your child's attendance compare?
Of the 365 days in a year only 190 of these are school days, leaving 175 days free for dental and medical appointments, days out, shopping and holidays.

If you are ever concerned about your child's attendance, punctuality or behaviour around attending school please reach out to us as soon as you are able as the earlier we can work with you to implement improvement strategies the easier this will be for you and your child.
Thank you for helping to make sure your child is attending school regularly and benefitting fully from the amazing educational opportunities at Airy Hill Primary School.